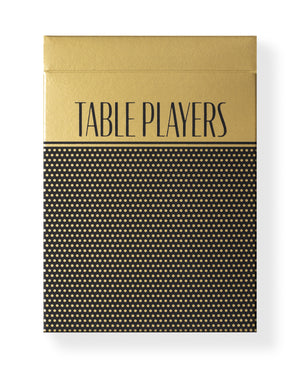 No.13 Table Players Vol. 6
The sixth and final instalment in the 2020 Table Players series by Kings Wild Project, Volume 6 brings together elegance and simplicity, featuring a textured tuck case with gold foil overlay and a simple back design that includes mirrored Kings Wild logos set against a rich black backdrop. 
As with previous decks within the Table Players series, all court cards and number cards are KWP Standard, ensuring maximum playability, yet have been recoloured to suit the theme of the deck - this time depicted in stunning gold and silver metallic inks!
Add some class to your collection.
Printed by The United States Playing Card Company on classic Bicycle stock with Air-Cushion finish.