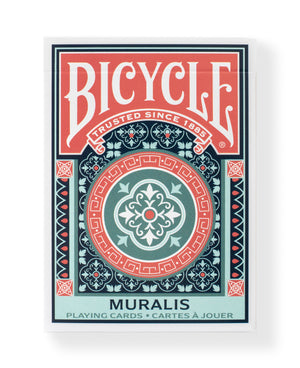 Bicycle: Muralis draws inspiration from Mediterranean countries and uses colours ranging from terracotta, representing the rooftops of homes in the Greek Isles, to sky-blues and ocean-turquoises, symbolising the crystal clear waters of the Mediterranean Sea. 

Muralis' back design is reminiscent of beautiful tile work found in Mediterranean countries and accompanies re-coloured court cards that create a cohesive design language whilst maintaining excellent playability and readability for family game nights.
Printed by The United States Playing Card Company with Air-Cushion Finish.