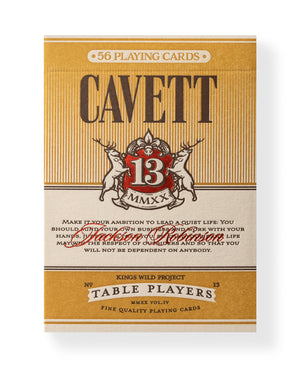 No.13 Table Players Vol. 4
Fourth in the Table Players subscription series by Kings Wild Project, Volume 4 (also known as Cavett) is named after designer, Jackson Robinson's nephew. 
Drawing inspiration from vintage tobacco and cigarette packaging from the early twentieth century, Cavett arrives in a beautiful letter-pressed tuck case printed by Clove St. Press and features hints of red foiling and a rich colour palette that highlights the clean and elegant artwork found throughout the deck. 
Printed by The United States Playing Card Company.