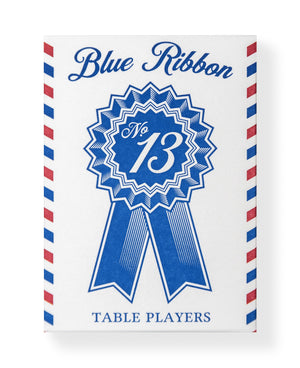 No.13 Table Players Vol. 2
The second instalment in Kings Wild Project's Table Players subscription series, Blue Ribbon playing cards are inspired by the original Aristocrat Blue Ribbons from the early 20th century.

Strikingly straightforward yet immensely impactful, Blue Ribbons feature a borderless back design that will transform your spreads and fans and add a new level of class to your game nights. A table favourite. 
Each deck arrives housed within a spectacular letter-pressed tuck case courtesy of Clove St. Press and has been traditionally cut and printed by The United States Playing Card Company on classic Bicycle Stock and with Air-Cushion Finish.