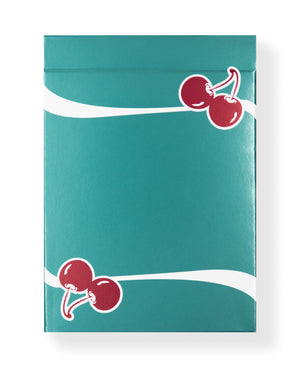 Cherry Casino: Tropicana Teal
The tropics are waiting, the stars are here and the jackpot is within reach. 
A little Miami, but a whole lot of Vegas; take a break and indulge yourself in the Tropicana Teal oasis that is Cherry Casino playing cards.
Inspired by vintage casino decks like Jerry's Nuggets and Wynns, Cherries incorporate a simple, symmetrical back design with standard faces, making them perfect for card games and magic performances alike.
Available in a variety of different colour-ways, Cherries maintain exceptional quality throughout the duration of their usage and are loved by conjurers and cardists alike. Two gaff cards are included with each deck - one double backer and one black face card. 
Traditionally cut and printed by The United States Playing Card Company on Crushed Bee Stock.