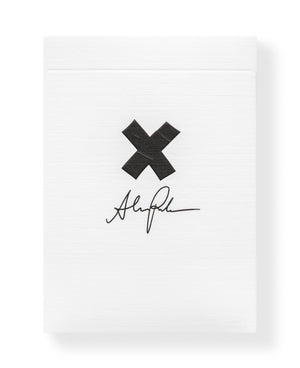 Ten months in the making and created by Alex Pandrea, X Deck: White is part of a three deck series that make up the second stylised version of the X Decks.

Minimal, yet stylised, the X Deck is one of Alex's personal favourites and encompasses his character and personality; the X's that feature on the back design symbolise the Roman numeral for 10, representing Alex's birthday of 10th October at 10am.
Encased within a stark white tuck case formed of thick card stock with a linen finish, all decks feature Arrco style court cards for a vintage feel and include a duplicate Queen of Hearts and blank face card.
Printed by The United States Playing Card Company on thin crushed stock.