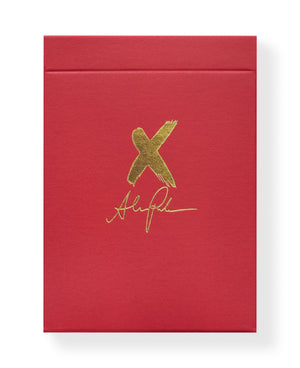 Initially released for Alex Pandrea's birthday in a limited run of just 100 decks, X Deck: Red is now available to the masses, after two years of requests! 
Minimal, yet stylised, the X Deck is one of Alex's personal favourites and encompasses his character and personality; the X's that feature on the back design symbolise the Roman numeral for 10, representing Alex's birthday of the 10th October at 10am!
Encased within a vibrant red tuck case formed of thick card stock, all decks feature Arrco style court cards for a vintage feel, a duplicate Queen of Hearts and a 'Moving X' gaff card for your magic performances.
Printed by The United States Playing Card Company on thin crushed stock.