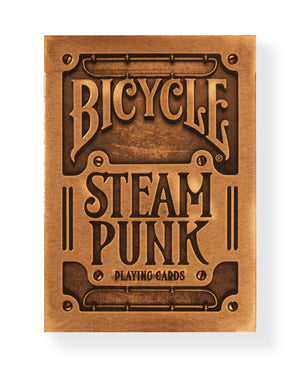 Torn straight from the pages of science fiction, Steampunks embody mechanical industrialism where gears are turning and steam is pumping. 
The manufacturing process wasn't easy. The paper used on the Steampunk tuck cases had never been used on a deck of playing cards before! Produced from scratch, the bronze paper was developed to perfectly print the ink that covers its surface in 19th century Victorian machinery. The boldly stamped, de-bossed elements of the tuck case cast shadows of illusion and create a perspective of depth and weight. The vents on top of the box invite you to take a look inside.
Once open, you will discover 52 pieces of machinery. Constructed of 12 million 3D polygons, Steampunks beckon you to stare at their seemingly infinite array of detail. Even the Jokers are morphed into jet turbines of steel and the Ace of Spades is a window to witness gears of intricate beauty and complexity.
Designed by Alex Beltechi and printed by The United States Playing Card Company.  

theory11 launched in 2007 with a team of 11 creators united by one purpose. To advance, inspire and create wonder.
Boasting the largest community of magic creators, with over 1,500 registered artists and hundreds of thousands of members around the world; theory11 have grown exponentially in the years following 2007 to become one of the largest luxury, designer playing card manufacturers in the world. With over 78 unique playing card designs under their belt, their goal is clear: to push the envelope and create the most breathtaking, innovative and elegant designs available.