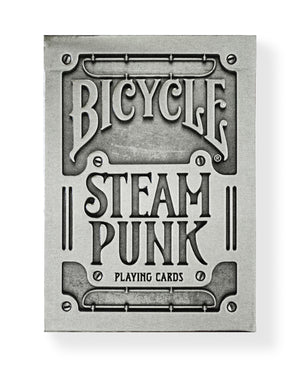 Discover 52 pieces of industrial machinery.
Produced in a high gloss reflective silver, with embossed tuck case detailing and printed with luxurious metallic inks, Steampunks are back and better than ever! 
The critically acclaimed Bronze Steampunk received rave reviews and pushed the limits of playing card design, this edition is no exception. Inspired by shining cogs and intricate gears, Silver Steampunk's contain original artwork on the Ace of Spades, Joker, back design, and tuck case. Constructed and designed with 12 million 3D polygons, no details were left untouched. Even the playing card box itself is embossed with polished, metallic contours!
Designed by Alex Beltechi and printed by The United States Playing Card Company on quality stock, with a premium finish.
theory11 launched in 2007 with a team of 11 creators united by one purpose. To advance, inspire and create wonder.
Boasting the largest community of magic creators, with over 1,500 registered artists and hundreds of thousands of members around the world; theory11 have grown exponentially in the years following 2007 to become one of the largest luxury, designer playing card manufacturers in the world. With over 78 unique playing card designs under their belt, their goal is clear: to push the envelope and create the most breathtaking, innovative and elegant designs available.