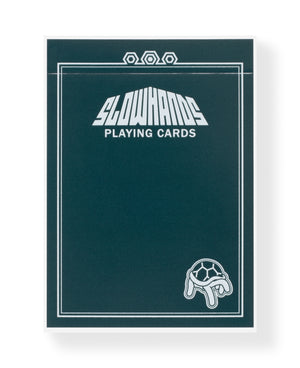 Produced by House of Playing Cards in collaboration with Kier Gomes and Nick Nisco, Slowhands V2 (Tortoise Backs) is the second instalment of the retrospective deck series and unifies geometric shapes with clean lines to make an almost three-dimensional back design that is sure to spice up your card flourishes and magic performances. 
The first series of playing cards dedicated to the beginning, and the beginner, Slowhands represent progression through continued practice, time and patience. Tortoise Backs continue this theme, featuring unique blue inks and fun illustrations that pay homage to one's initial steps into the world of magic and playing cards. 

Limited to 2,500 and printed by The United States Playing Card Company. Each deck arrives with a blank card and duplicate for added magic effects.