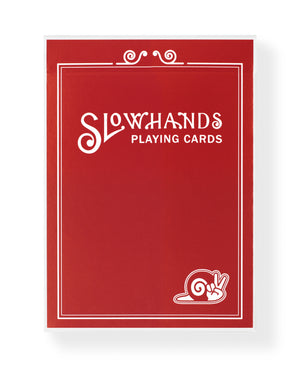 Inspired by the classic Bicycle Rider Back, Slowhands playing cards by Kier Gomes & Nick Nisco encourage you to journey back in time, to humble beginnings, when you ventured into the world of shuffles, sleights, flourishes, and winning poker hands.
Slowhands aims to remind us of our roots and shared passion; based on the idea of a deck of cards representing the origin of many people's journeys into magic and the sense of wonder that far exceeds one's skill when first getting into the art.

Paying homage to the original Rider Back was key for the duo and as such, Slowhands features a familiar aesthetic with intricate scroll work but with an updated, modernised and whimsical design elements. 
Its rich, Crimson colour-way with white trim provides an eye-catching contrast and, coupled with the addition of a subtle one-way back design and 3 of Clubs reveal on one of the Jokers, makes this an ideal choice for working magicians who require an unsuspecting deck of cards. 
Traditionally cut and printed by The United States Playing Card Company.