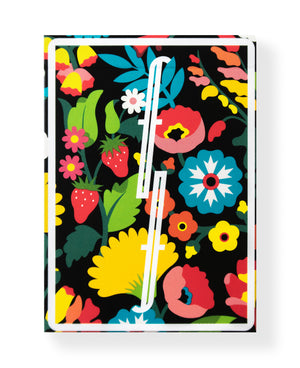 DESCRIPTION
FONTAINE CARDS
DABSMYLA are Australia-based visual-artists who employ a design language that dictates subject matter, positioning, colour theory and perspective. This philosophy can be seen throughout their collaboration with Fontaine Cards in what is arguably their most colourful and customised deck to date. 
From the vibrant flowers and fruit adorning the tuck box and card backs, to the playful, whimsical characters that replace standard court cards; every element in this deck has been carefully considered and executed with the precision of a diamond heist and with the charm of a Technicolor world.  
Printed by The United States Playing Card Company on premium crushed stock. 
Founded by Zach Mueller in 2013 out of his love of old school casino decks like Wynns and Jerry's Nuggets, Fontaine was a 'just for fun' project that is making a huge impact on the world of playing cards.
What started with one prototype deck of Red Fontaine's, Mueller built a following by showcasing his skill as a magician on Instagram and Facebook. It didn't take long for demand for his product to build! (FYI - Red Fontaine's are now going on reseller sites like eBay for $200+!) By the time his second deck was released, Blue Fontaine, his following had grown to such an extent that the Kickstarter campaign raised over $60k. Realising this could become a full-time occupation, Zach has since narrowed his vision to pure cardistry and been featured in a number of viral videos, a commercial for Japan Airlines and has collaborated with some of the world's leading artists and designers. 
Zach has built a brand that is renowned amongst card enthusiasts; constantly pushing the boundaries of cardistry and people's perception of playing cards, taking the art to new heights.