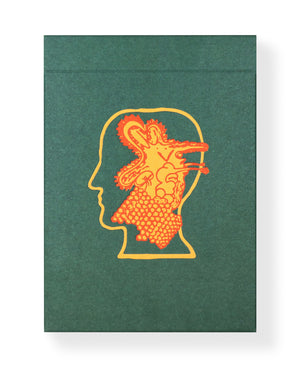 DESCRIPTION
FONTAINE CARDS
Housed within a letter-pressed tuck case formed from matte card stock, Brain Dead x Fontaine playing cards feature a fully custom design inspired by post-punk, underground comics and skateboarding culture.

With thin borders, grungy textures and one-way card backs that bear both the Fontaine and Brain Dead logos, this is a deck the thrives during cardistry and is guaranteed to capture the attention of your audience. 
Limited to 2,500 and printed by The United States Playing Card Company on crushed stock with premium finish.
Founded by Zach Mueller in 2013 out of his love of old school casino decks like Wynns and Jerry's Nuggets, Fontaine was a 'just for fun' project that is now making a huge impact on the world of playing cards.
Starting with one prototype deck of Red Fontaine's, Mueller built a following by showcasing his skill as a magician on Instagram and Facebook. It didn't take long for demand for his product to build! By the time his second deck was released, Blue Fontaine, his following had grown to such an extent that the Kickstarter campaign raised over $60k. Realising this could become a full-time occupation, Zach narrowed his vision to pure cardistry and been featured in a number of viral videos, a commercial for Japan Airlines and has also collaborated with some of the world's leading artists and designers. 
Zach has built a brand that is renowned amongst card enthusiasts; constantly pushing the boundaries of cardistry and people's perception of playing cards.