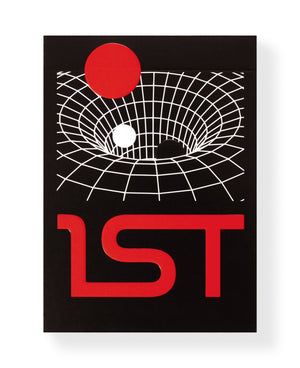 The fourth release from Youtuber and Magician, Chris Ramsay, 1ST V4's are available in Black and Red and usher in a new design language for the 1ST brand. 
Where previous editions included tuck cases enveloped in gold foil, with deep embossing and a thick card stock, V4's are designed with a purposeful, minimalistic style to emulate products and tools found aboard a space ship. The result is a deck which is much more affordable than its predecessors but retains the same great card quality, making them the perfect worker's deck. 
Decks arrive in Mnemonica stack and feature modified, re-coloured face cards that include traces of 1ST logos found on the card backs. Each deck includes two identical jokers, a special card reveal on the King of Hearts and a faded gaff card that can be used for a colour-changing card trick that takes place in the spectator's hands!
Printed by The United States Playing Card Company on Crushed Bicycle Stock.