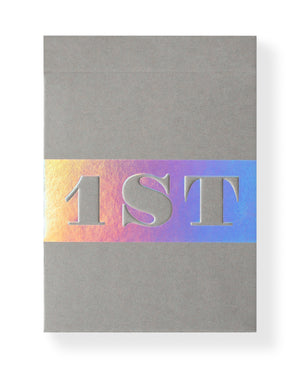 The fifth release from Chris Ramsay and 1st.shop, 1ST Playing Cards Holo Edition arrive housed within a tuck case crafted from smooth matte-grey paper and include the same striking foil band and luxurious internal printing that can be found on the V3's - this time, recoloured in mesmerising holographic, MetalLuxe foil. 

Inside, the cards feature a symmetrical back design formed from an array of Chris Ramsay's logo, with elegant 1ST branding that spans over crisp white borders and is brought to life when the cards are fanned; creating an elegant, holographic ribbon!
Decks arrives in Mnemonica stack and feature standard face cards. Each deck includes two identical jokers, a 4 of Spades duplicate and a blank card for your magic performances.
Printed by The United States Playing Card Company on Crushed Stock with Magic Finish.