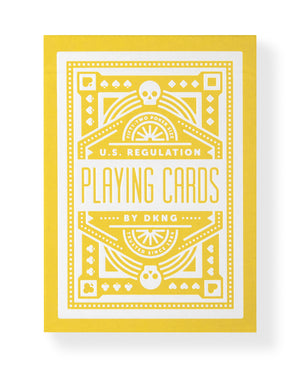 One of Art of Play's most popular decks, now available in Yellow! 
A fresh interpretation of the classic Bicycle Rider Back, this updated design has all the elements we love from previous versions but has been reimagined in a vibrant yellow colour-way, perfect for Summer months!
The deck features 54 custom-illustrated cards, with beautiful courts and abstract pips and indices - all housed within a custom tuck box, sealed with a metallic silver tax stamp.
The cards handle fantastically and are printed on Art of Play's trademark thin stock, preferred by cardists. Designed in collaboration with DKNG and printed by United States Playing Card Company.

DKNG is a creative studio based in Los Angeles helping some of the world's most prominent brands and artists tell their stories through design and illustration. Founded by Dan Kuhlken and Nathan Goldman in 2005.
Kuhlken and Goldman were both drawn to music, film and design at an early age, but didn't combine their talents until 2005 when the duo founded a design studio (DKNG) with the goal of fusing these creative avenues. The pair has found a niche in linking a personal and unique aesthetic to the world's most talented and iconic musical artists, brands, and businesses.