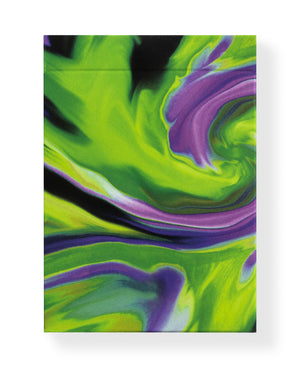 Ultra is an eye-catching painting by Toomas Pintson and is featured in this addition to the Gemini Decks' line-up of playing cards designed for cardistry, in a stunning green and purple colour-way. 
Previewed on the tuck case and brought to life on the card backs, Ultra's twin tip design retains a two-way aesthetic, creating stunning fans in a multitude of colour and fluid packet cuts. 

Spot and face cards are standard in appearance but have been recoloured in an array of purples, yellows and greens to suit the deck's theme and are featured alongside full bleed elements which transform spreads and make the faces of cards as dynamic as the backs!

Limited to 2,500 decks and printed by The United States Playing Card Company on crushed stock.