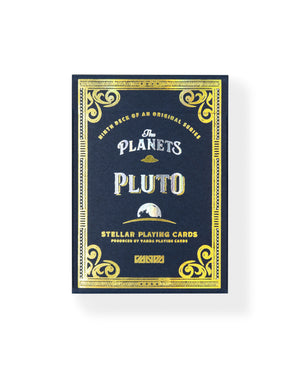 The Planets is a collection of playing cards representing the planets in our solar system. Starting closest to the sun and moving outwards to the surrounding universe, Pluto is the ninth and final deck in this stunning series. 
Housed within a tuck case laced in gold and silver holographic foil, Pluto is a miniature deck of cards that embodies the physical properties and the meaning of the former planet.
Pluto was the ruler of the underworld and the god of wealth - how fitting therefore, that this be the most luxurious and extravagant deck from Vanda Cards to date; featuring holographic card faces and court cards depicting demonic (yet friendly) creatures that could live on the dwarf planet's surface. 
Printed by Make Playing Cards and limited to 2,500, each Pluto deck includes a custom numbered seal and arrives in its own Carat display case!