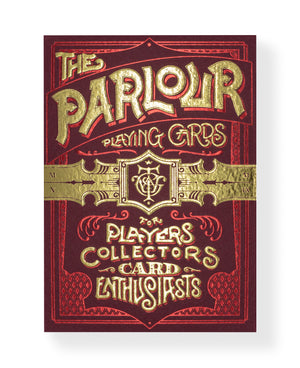 Unassuming and opulent, The Parlour playing cards feature a plethora of improvements and details which make them some of the finest decks currently on the market. Available in Blue and Red and endorsed by magicians and cardists around the world. 

The Parlour's tuck case is nothing short of exquisite, combining deep embossing and intricate gold and red foil detailing. Internally, the tuck is laced with more gold foil, this time taking a form that is reminiscent of the wallpaper found in producer, The Gentleman Wake's, study. 
The cards feature a timeless, two-way back design with TGW Monogram Spades, Rhinoceros Beetles and a Damask pattern - all printed on an ivory card stock to create a subtle, vintage feel. Decks arrive in Mnemonica stack, tailored for magicians and mentalists, and include court and number cards that adopt an instantly recognisable aesthetic with refinements to indexes and court card ornamentation. 
Expertly designed by Stockholm17 and printed by Cartamundi on crushed stock with their proprietary B9 True Linen Finish.