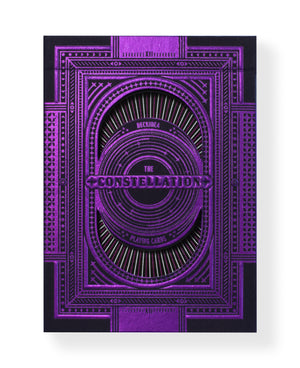 The Constellation: Mystique Purple
The Babylonians invented 13 Zodiac constellation signs in the first half of the 1st millennium BC. Over the years the number of signs reduced to twelve, which are the ones we use to this day. The names of these twelve signs are mostly associated with horoscopic astrology, which is the inspiration behind The Constellation playing cards.
Similar to the Champagne Gold edition, Mystique Purple is rich in detail and contains hidden symbolism that reveals itself with every glance; including moon-phases, zodiac signs and more! Dark and sophisticated, this edition includes openings on the tuck-box that reveal part of the deck inside which come alive when exposed to a UV black light!
Inside, the cards feature a completely custom design with ornate pips, indices and court cards that take on the appearance of each of the twelve Zodiac signs. There's even an illustration of all 12 Zodiac in their respective star alignments printed on the inside of the tuck box!
Limited to 3,750 and printed by Cartamundi with True Linen B9 Finish.