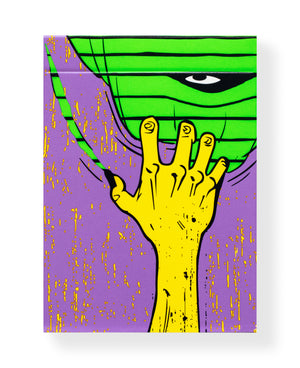 It enjoys watching you sleep...

From the mind of Alex Pandrea and Edo Huang, DeadEye is the fifth instalment from Svngali Co. and features a subtle vintage feel with freaky twists! 
DeadEye's back design features full bleed elements that add a new aesthetic to your card flourishes, whilst face and spot cards retain a familiar appearance but have been recoloured to suit the deck's theme and are accompanied by some eerie alterations, a number of card reveals and a blank face and alternate colour double backer for your magic performances. 
Printed by The United States Playing Card Company.