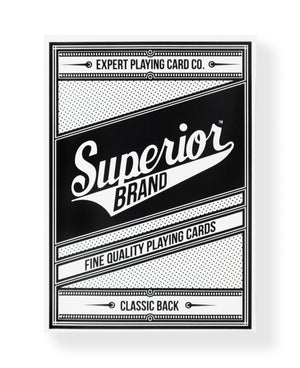 An inexpensive alternative to Bicycle or Tally-Ho decks, Superior: Red features the brand's 'Classic' back design and is printed on a soft stock that balances durability with ease of handling. An ideal everyday carry!
Each tuck case is constructed from a special synthetic paper that will last, time and time again. It is tear resistant, resilient and will even help protect your cards from moisture!
The cards themselves are perfectly suited to magic, with familiar court cards, great readability and a traditional cut, making for easy faro shuffles and table work! 
Available in Red, Blue and Black and printed by Expert Playing Card Company with Classic Stock and Finish. 
Based in New York City, Expert Playing Card Company produces high quality playing cards and is a new project from the Conjuring Arts Research Center. 
Working closely with Lawrence Sullivan from Legends Playing Card Company, EPCC has gained the expertise and has access to resources and factories that allow them to produce playing cards and accessories to incredibly tight tolerances under scrutinous quality control. 
Both Conjuring Arts and EPCC aim to preserve historical and cultural material to teach magic to those in need of empowerment.