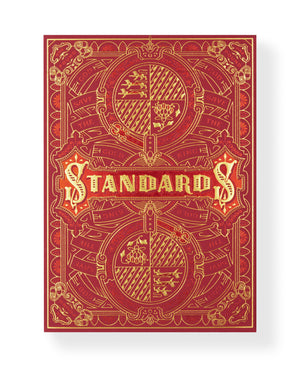 Inspired by nineteenth-century British opulence, an era of elegance unsurpassed, Standards premium playing cards redefine luxury at the card table.
Produced by Art of Play in collaboration with Kevin Cantrell Studio, Red Standards arrive housed within a stunning tuck laced in gold foil externally and internally. Inside, the cards are completely custom and have been crafted with meticulous attention to detail. 

Printed by The United States Playing Card Company on Art of Play's proprietary thin-stock developed for cardists.
Twins brothers Dan and Dave Buck are perhaps best known for their contributions to the art of cardistry. 
Masters of sleight of hand, the Buck twins have released a plethora of instructional videos and DVDs which not only led to the increase in popularity of cardistry, but also made them two of the most influential people in the magic and cardistry community. 
In 2013, off the back of a becoming wildly successful producers of luxury playing cards, they founded Art of Play. Based in the United States, Art of Play curates a collection of wonderfully unique playing cards, puzzles, games and amusements.  
Epiphanies await the curious mind.