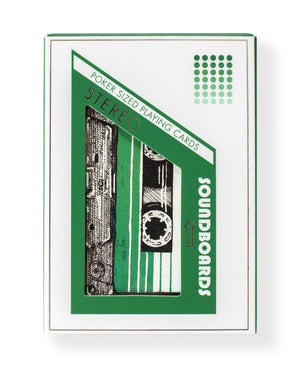 Put on a set of headphones and immerse yourself in the greens. 
First produced by Patrick Varnavas in 2014, Soundboards playing cards celebrate vintage audio gear like 80s cassette players and gramophones, combining elements from different audio equipment to create a harmonious two-way design. The fourth edition, (also know as Forest Edition) is sleek in appearance and balances simplicity and complexity to create a timeless, modern aesthetic.

Packaged inside a vintage mixtape-inspired tuck box, the cards take on a familiar appearance and are accompanied by two identical cassette tape Jokers and an elegant Ace of Spades.

Limited to 2,500 and printed by Taiwan Playing Card Company on Legendary Stock.