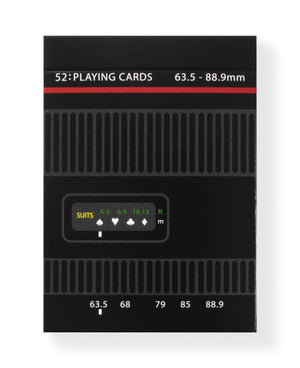 Shooters: Standard Edition
Produced by the Dutch Card House Company in collaboration with Matt Fujiwara, Shooters combines a passion for photography with clean graphic design and brilliantly mimics the aesthetics of a camera.

Housed inside a tuck box that resembles a DSLR, the cards feature classic photography-inspired icons including battery level, aperture blades, flash and self-timer (to name but a few) and are surrounded by an elegant 'Red Ring' - signifying a higher grade of lens glass. Court cards are standard in appearance but have been recoloured and subject to a subtle scattering of camera icons.
Also available in a luxury, Collector's Edition. Printed by The United States Playing Card Company on Crushed Stock.