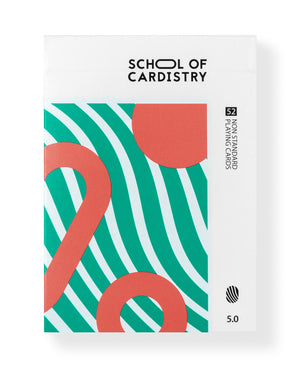 Since its humble beginnings in 2014, the School of Cardistry YouTube channel has grown to be an integral part of the cardistry community, providing a free and easily accessible resource to anyone looking to pick up or progress in the art of card flourishing. 
Followers of the School of Cardistry will notice this version's unique take on design. Created by the well-known ITS Team in South Korea, V5's bring a fun twist to conventional playing card aesthetics and a departure from New Deck Order's usual style. The back design, combined with non-standard uniform faces that utilise Pantone's 2019 Colour of Year, Living Coral, present a means to create completely different and unique visuals during your flourishes.
Each deck includes an ad card with a free download to the Quantum Cut tutorial by Jaspas Deck. 
Limited to 1,000 decks printed.