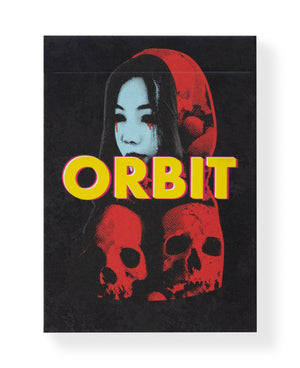 DESCRIPTION
CHRIS 'ORBIT' BROWN
Produced in collaboration with renowned rap artist, beer and comedy enthusiast and Brazilian Jiu Jitsu practitioner, Mac Lethal, we present to you - Orbit x Mac Lethal Edition.

Housed inside a matte tuck case, the cards feature album art from Mac Lethal's Winter Heartbreak II and include duplicate jokers illustrated by @monikerthemonster. 
Traditionally cut and printed by The United States Playing Card Company on Premium Thin Crushed Stock with Air-Cushion Finish. 
Since childhood Brown was fascinated with how things worked. Over the years he developed many talents but none as prevalent as magic. Moulded by a group out of the Bay Area called the Magic Garage, Brown met magicians who were experts in their field and who imparted valuable knowledge upon him. After studying the art for 4 years, Chris invented his first algorithm (at the age of 23!) after meeting Kim Peek, the original rain man. He entitled it, "The Rainman Algorithm" which, if told a birthday, can calculate the day you were born on, the day you'll turn 65 and what day it will land on this year - all in less than 5 seconds! Needless to say, a eye for detail and thoroughness is evident in every aspect of Brown's work. 
Orbit came to life through Kickstarter and exceeded it's goal on the final day of the campaign. The 'perfect circle', a staple in the series' back design, illustrates a level of ability that most people strive for but seldom arrive at because many think it doesn't exist or is unachievable.
The circle is perfection. The circle is a mentality. Its the highest level of expertise but also acknowledges that fact that we are all continuously learning, there is no beginning and no end.