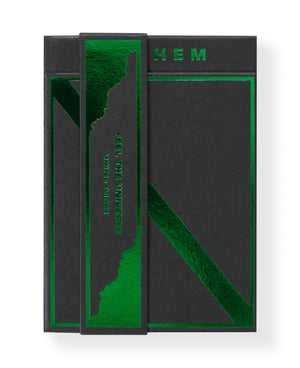 DESCRIPTION
FEEL THE UNIVERSE
Feel the difference. Feel the universe.
Odyssey: Anthem features a stunning green nebula and, compared to its predecessors, slight modifications to line-weights to place greater emphasis on packet cuts and provide glimpses of the back design when fanned.
Much alike the Nova Edition, Anthem includes subtly modified standard court cards, combining custom pips with minimal detailing to perfectly balance an eye catching aesthetic for cardistry and familiar appearance for magic. 
Limited to 2,500. Printed by Hanson Chien Production Company on Vintage Paper Stock with Legendary Finish. 
Feel the Universe, created by Sergio Roca Martínez, tries to merge cardistry and magic into a lifestyle - making it far more than a playing card company. 
Summer of 2016 saw the release of their first deck of cards, Odyssey. After two years in the making, the project almost doubled its goal on Kickstarter and subsequently led to the release of the Boreal Edition in 2017. 
The future holds great things for Feel the Universe as they continue to develop new products and expand their brand apparel to t-shirts, vinyls, stickers and much more!