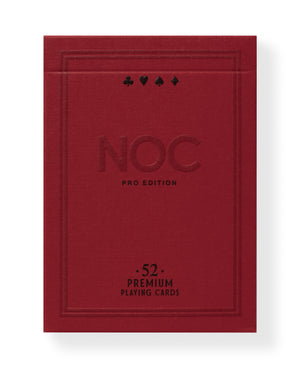 Four colour-ways. Fully marked. Premium embossed tuck case. Thin crushed stock. The perfect deck of cards?

For nearly 10 years the NOC brand has been one of the top choices for custom decks; catering for magicians, cardists and card collectors all around the world, with over 100 unique variations and millions of decks sold. 
NOC Pros are the definition of a professional, worker's deck. Also available in Navy Blue, Jet Black and Greystone - each colour-way exudes upscale professionalism and are ideal of magic performances and magicians of any kind. This edition sees the iconic, minimal back design of NOC Originals undergo an upgrade, with an added inner border that adds elegance but also functionality - making this deck fully marked for suit and value!
Printed by The United States Playing Card Company on thin, crushed stock. Each deck arrives with a duplicate Queen of Hearts.