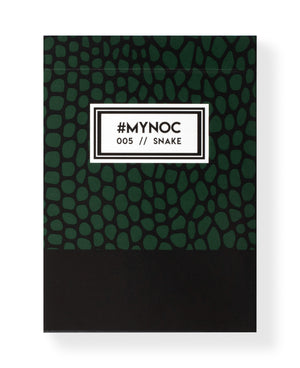 The MYNOC project officially launched in 2019 at Cardistry-Con to give people the chance to create their own NOC deck using the MYNOC Sticker Campaign. Simply place a sticker on any surface and post your photo to social media with the hashtag #mynoc and House of Playing Cards might print your deck!
Fifth in the series, MYNOC: Snake features a dark green and black colour palette with snakeskin card backs! Complete with standard court cards and number cards, MYNOC: Snake is a versatile addition to any collection and is equally equipped to handle play at the card table, as it is card flourishing. 
Printed by The United States Playing Card Company on Classic stock with Air-Cushion Finish.