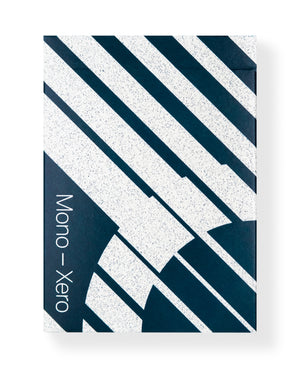 Embrace the concept of monochrome.
Adding to Luke Wadey's line-up of decks designed around the use of a single colour palette, Mono-Xero features a navy blue, 2-way back design combined with full bleed elements to create bold visuals for cardistry and an immersive magic experience.
The deck utilises a variety of line thicknesses and gradients to create a distinctive aesthetic with a noticeable 'O' on the card backs that is amplified during rotational flourishes. Face and spot cards are all completely custom but remain easily recognisable through a clever use of traditional and bespoke design elements.
Limited to 2,500 and printed by Cartamundi on slim-line card stock with B9 Finish.