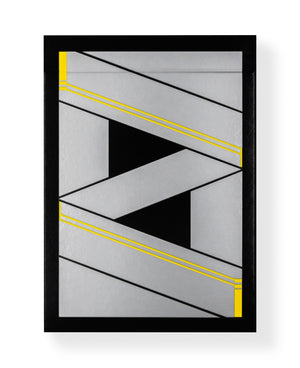 Housed within a stealthy black and grey tuck case with yellow accents, Mako: Silversurfer joins Gemini Decks' collection of playing cards designed for the art of card flourishing.
This edition of Mako differs from its predecessors by not only including modified court cards and custom number cards, but through its inclusion of metallic inks that shimmer during cardistry and delicate yellow bands that extend to the edges of each card to transform spreads and fans.
Limited to 3,000 and printed by The United States Playing Card Company. 
Gemini Decks was created by Estonian multimedia designer, magician and card flourisher Toomas Pintson and produce high quality custom playing cards for cardists, magicians and playing card collectors.