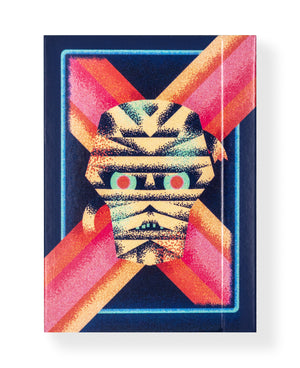 A celebration of the nostalgic Ghost Train - those of you brave enough to purchase a Little Deck of Horrors will be met with an array of monstrosities; from ghosts to ghouls to goblins, take a whimsical journey through time and visit the evil characters of our childhood.
Neon fairground lights are captured within the back design, centred around a kaleidoscope of skulls which can also be found within each Ace! Card faces are completely custom and each court depicts a different monster or mythical creature (Frankenstein, Medusa and Witches to name but a few!) - see how many you recognise! 
The tuck case has a smooth-gloss and is side-opening, with the word 'Boo!' printed on the inner flap. Take the ride if you dare as this is one terrifying deck of cards with a retro-horror vibe! 
Printed by Cartamundi on True Linen B9 Finish and stock.  
Ellusionist was founded on January 1st, 2001 by Brad Christian with the goal of creating the best online training environment for people who want to learn high-impact, effective magic tricks.
Since then, Ellusionist growth has been unprecedented, boasting one of the largest magic forums on the internet with over 60,000 members.
Constantly pushing boundaries, in 2017 Ellusionist launched Magic Stream, an online subscription based streaming platform, giving its users the ability to view magic tutorials anywhere, on any device.
The power to perform magic beyond belief.