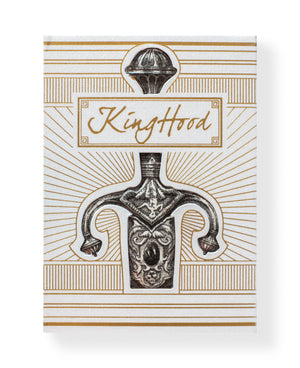 Legend speaks of evil descending on an ancient kingdom, casting curses that took away people's consciousness and turned them into orcs. Whenever darkness fell, orcs would turn into beasts and slaughter each other. The King assembled the wandering knights in search of a way to lift the curse and vowed to regain the throne - a fierce battle between justice and evil seemed all but inevitable.

Encased within a stereo 3D embossed tuck box with numbered sticker seal, Kinghood: Elegant features eye-catching sword and knight graphics which accompany fully customised, hand-drawn face cards that took over 100 days to complete!
The classical and elegant drawing style of Kinghood: Elegant looks like a totem from ancient legends. You'll find different images of cursed orc warriors weilding a variety of weapons on each court card and surely won't keep your hands off these playing cards when you get them!
Limited to 1,000 decks.