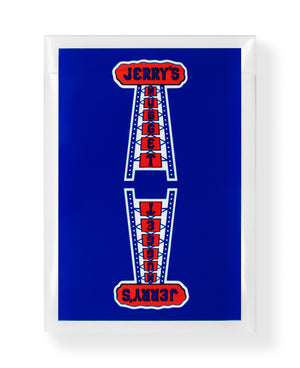 Jerry's Nugget Vintage Feel: Blue
Embrace nostalgia with Vintage Feel Jerry's Nuggets and experience the closest replica to original Jerry's ever printed! 
In 1970, Jerry's Nugget Casino created what would become one of the most collectible decks of cards ever manufactured by The United States Playing Card Company. Made for the tables but never used, Jerry's were put in storage for twenty years! By 1999, the cards had sold out but demand continued to grow.
Fast forward to today and, after three years of pursuit and negotiation, a deal was reached between Jerry's Nugget Casino and Expert Playing Card Company to start making them again! From card stock to finish, tax stamp to tear strip... even the long-tongue tuck flap has been reproduced with unparalleled accuracy. 
Printed by Expert Playing Card Company featuring JN Finish and a Traditional Cut for easy faro work, it's time to make Jerry's part of your everyday carry!