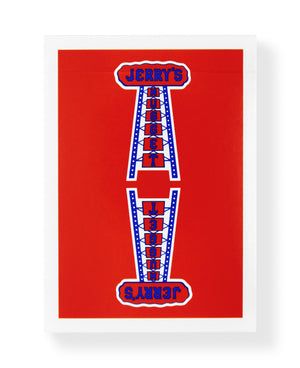 Jerry's Nugget Modern Feel: Red
The most iconic and elusive deck ever created can now be your everyday cards!
In 1970, Jerry's Nugget Casino created what would become one of the most collectible decks of cards ever manufactured by The United States Playing Card Company. Made for the tables but never used, Jerry's were put in storage for twenty years! By 1999, the cards had sold out but demand continued to grow.
Fast forward to today and, after three years of pursuit and negotiation, a deal was reached between Jerry's Nugget Casino and Expert Playing Card Company to start making them again!
In homage to the original Jerry's these cards are printed on the Web Press by The United States Playing Card Company on Premium Crushed Stock to mimic the thickness of the original cards. Modern feel Jerry's are the perfect thinness of today's tastes and, whilst they won't feel the same as the original, they are perfect for sleights, flourishes and cardistry! To make them even better, they feature original artwork on the back and face design, Jokers and are Traditionally Cut for easy faro work!