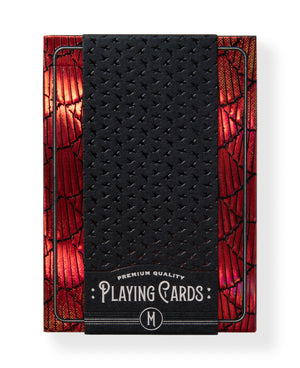 Hummingbird Feathers: Red
Conceptualised by Kellar O'Neil and designed by Chris Tipton, Hummingbird Feathers combine the most elaborate cold foil printing process with brilliant colours to mimic the iridescence of marvellous hummingbird feathers.

Inside a letterpress printed tuck box with sculpted embossing is a deck of borderless playing cards with stunning holographic foil feathers. Face cards come in a recognisable, classic style but have been refined and customised with more shimmering foil to suit the theme of the deck. 
These awe-inspiring playing cards have to seen to be fully appreciated and perfectly encapsulate the intricate details of the hummingbird. A must-have for card flourishers, magicians and collectors.
Can you make the hummingbird fly, or better yet, hover?
Also available in Blue and Purple. Printed by Cartamundi on Slimline B9 Stock.