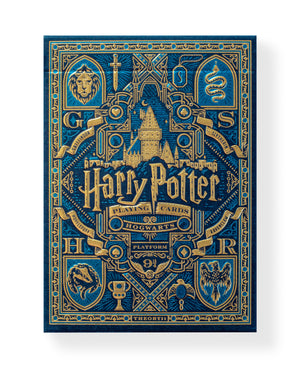 Featuring all of your favourite characters in four spellbinding colours to represent each of the houses of Hogwarts, prepare to relive the most memorable moments of the iconic Harry Potter series with these premium playing cards by theory11.
The outer packaging is simply magical. Opulent, ornate gold foil, striking house-coloured foil accents and precise, ultra-detailed embossing. A box that is as luxurious to the touch as it to the eyes.
Completely custom in every aspect - from Aces to Jokers and tuck box to back design - all elements have been directly inspired by fan-favorite characters and events in the Wizarding World. Court cards feature Harry proudly holding the Golden Snitch and his Nimbus 2000, Voldemort wielding his wand made of yew and Snape teaching Potions class with his Advanced Potion Making textbook, plus many more! 
Printed by The United States Playing Card Company. Also available in Gryffindor, Slytherin and Hufflepuff colour-ways!

theory11 launched in 2007 with a team of 11 creators united by one purpose. To advance, inspire and create wonder.
Boasting the largest community of magic creators, with over 1,500 registered artists and hundreds of thousands of members around the world; theory11 have grown exponentially in the years following 2007 to become one of the largest luxury, designer playing card manufacturers in the world. With over 78 unique playing card designs under their belt, their goal is clear: to push the envelope and create the most breathtaking, innovative and elegant designs available.