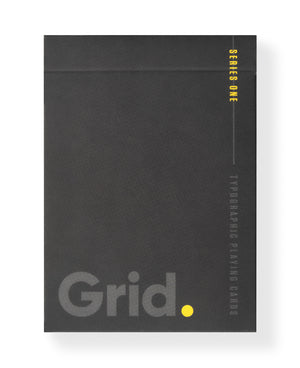 Break the mould with Grid: Series One by Luke Wadey.
First in a collection of decks embodying the characteristics of the International Typographic Style or 'Swiss Style' design principles, Grid: Series One focuses on how each card's suit and value can be displayed through text.

Both back and face designs have been subject to multiple design iterations to achieve the perfect balance of style and substance, catering for a variety of uses, whether it's card games, magic or cardistry. 
Court and number cards have been engineered around readability, giving the user multiple ways to divine a card's suit and value, regardless of the card's orientation.
Printed by The United States Playing Card Company on Linen, Air Cushion stock.

Experience a new form of playing cards.