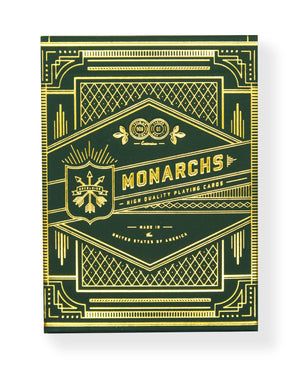 There is no question that Monarchs are one of the most refined and best handling decks currently available. Green Monarchs being no exception.
Gold foil surrounds an elegant, forest green embossed tuck box that is both striking and has a vintage, yet timeless aesthetic. 
Even before you've removed the deck from the tuck, you'll feel the luxury with a unique two layer box construction making this one of the most durable cases theory11 have ever made. 
Once you've handled a deck you'll understand why they are regarded as some of the most cherished and luxury playing cards on the market. 
Illustrated by Curtis Jinkins and printed by United States Playing Card Company with vegetable-based inks on FSC-certified paper derived from sustainable forests.
theory11 launched in 2007 with a team of 11 creators united by one purpose. To advance, inspire and create wonder.
Boasting the largest community of magic creators, with over 1,500 registered artists and hundreds of thousands of members around the world; theory11 have grown exponentially in the years following 2007 to become one of the largest luxury, designer playing card manufacturers in the world. With over 78 unique playing card designs under their belt, their goal is clear: to push the envelope and create the most breathtaking, innovative and elegant designs available.