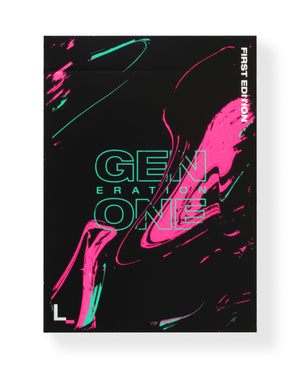 Generation One (or 'GEN1' for short) combines vibrant pattern and controlled typography to create a unique deck that is perfect for cardistry, magic or your collection.
Designed by Luke Wadey in association with Kier Gomes, GEN1 is inspired by Kier's use of bright, eccentric colours on his social media platforms. Luke has designed the deck to provide nostalgic, 80's vibes but has presented them in a playful, modern aesthetic with streaks of neon colours which band together in eye catching fans and ensure the cards stand out from every angle.
Featuring modified card faces with bold, custom ad cards and a wild Ace of Spades, Generation One proves that cardistry influenced designs can bring an edge to modern, working decks for magic! 
Limited to 2,500 and printed by The United States Playing Card Company on Premium, Crushed Bee Stock with Air-Cushion Finish.