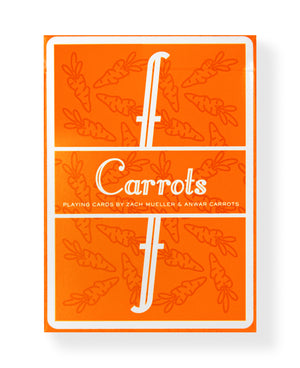 DESCRIPTION

FONTAINE CARDS
Made in collaboration with Anwar Carrots - Carrots is the seventh deck of Fontaine cards by Zach Mueller and is a result of a downtown drive to Los Angeles where the pair met to discuss streetwear.
A merger of cardistry and streetwear was a longtime goal of Zach's and this edition of Fontaine made the dream a reality, with card enthusiasts queuing for his decks like they would fashion brands. 
Sporting a vibrant orange and navy colour-way, Carrots includes a blank face card, simplified court cards and two carrot Jokers! 
Limited to 10,000 and printed by The United States Playing Card Company. 
Watch the cards in action below!
Founded by Zach Mueller in 2013 out of his love of old school casino decks like Wynns and Jerry's Nuggets, Fontaine was a 'just for fun' project that is making a huge impact on the world of playing cards.
What started with one prototype deck of Red Fontaine's, Mueller built a following by showcasing his skill as a magician on Instagram and Facebook. It didn't take long for demand for his product to build! (FYI - Red Fontaine's are now going on reseller sites like eBay for $200+!) By the time his second deck was released, Blue Fontaine, his following had grown to such an extent that the Kickstarter campaign raised over $60k. Realising this could become a full-time occupation, Zach has since narrowed his vision to pure cardistry and been featured in a number of viral videos, a commercial for Japan Airlines and has collaborated with some of the world's leading artists and designers. 
Zach has built a brand that is renowned amongst card enthusiasts; constantly pushing the boundaries of cardistry and people's perception of playing cards, taking the art to new heights.