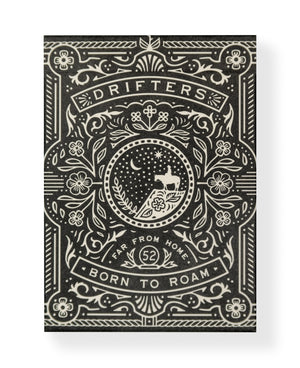 Designed for the ramblers, gamblers and travellers. Life will deal you many hands but Drifters playing cards serve as a reminder that the journey is the destination.
Themes of adventure can be found throughout this deck, from the fully customised court cards to the beautiful letter-pressed tuck case. Every shuffle and cut encourages you to never settle and to chase a life of freedom. 
Designed by Curtis Jinkins, illustrator of Monarchs playing cards, in collaboration with Dan and Dave and printed by The United States Playing Card Company. 
Twins brothers Dan and Dave Buck are perhaps best known for their contributions to the art of cardistry. 
Masters of sleight of hand, the Buck twins have released a plethora of instructional videos and DVDs which not only led to the increase in popularity of cardistry, but also made them two of the most influential people in the magic and cardistry community. 
In 2013, off the back of a becoming wildly successful producers of luxury playing cards, they founded Art of Play. Based in the United States, Art of Play curates a collection of wonderfully unique playing cards, puzzles, games and amusements.  
Epiphanies await the curious mind.