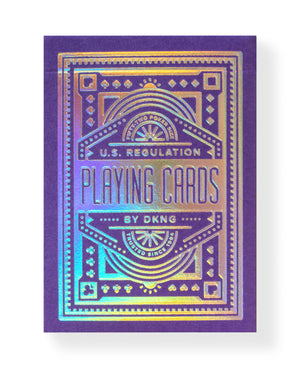 DKNG Rainbow Wheels: Purple
Celebrate your pride with a pack of Rainbow Wheels from DKNG Studios and Art of Play. 
This colourful variation of the popular DKNG Playing Cards features a unique rainbow foil back design with updated face cards to match!
All decks have the same back design but are packaged inside a vibrant set of holographic foil-stamped tuck boxes. Pick your favourite colour or grab a Six Seater Box Set if you can't make up your mind!

Limited to 7,500 and printed by Expert Playing Card Company.
DKNG is a creative studio based in Los Angeles helping some of the world's most prominent brands and artists tell their stories through design and illustration. Founded by Dan Kuhlken and Nathan Goldman in 2005.
Kuhlken and Goldman were both drawn to music, film and design at an early age, but didn't combine their talents until 2005 when the duo founded a design studio (DKNG) with the goal of fusing these creative avenues. The pair has found a niche in linking a personal and unique aesthetic to the world's most talented and iconic musical artists, brands, and businesses.