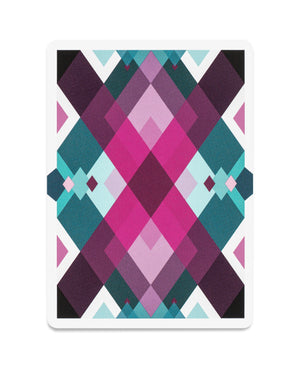 Diamon No. 17, also known as Royal Victory, is the seventh addition to the Diamon family, designed by the Dutch Card House Company.
Crafted for card flourishing and enthusiasts alike, Diamon No. 17 features a striking geometric design with hues ranging from teal to magenta that will make everything from flourishes to shuffles an eye-catching visual masterpiece. 

Much of what we've come to expect from decks in the Diamon series has remained in No. 17, including the small border-bleeding arrows and contrasting bright colours which combine to create vivid fans and satisfying spreads. Pips and indices are also consistent with the diamond pattern found on the tuck case and card backs, creating a harmonious relationship and completing this fully custom deck of cards.
Printed by The United States Playing Card Company.