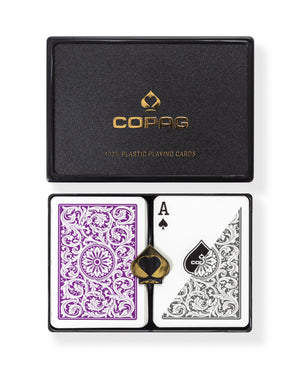 Copag 1546: Gray & Purple
Poker sized and made of highly durable PVC plastic, this two-deck set arrives in its own hard plastic storage and carrying case and can outlast paper cards up to fifty times! 
Available in a variety of colours, the deck is completely washable (click here for more information on how to wash your plastic playing cards), less prone to bending and harder to cheat with - all of this means more competitive poker nights and less worrying about spilt drinks or heavy handed shufflers when you grab a deck for your family games night or garden party. 
Produced by Copag and printed in Brazil. 
The brand you don't know you love. 
People are playing with cards and games made by Cartamundi in more than 185 countries, in homes all over the world. Monopoly, UNO, YuGiOh, Guess Who?, Pokemon, Pictionary - if you recognise any of these names then you've experienced a piece of Cartamundi's magic, probably without even realising it. 
Playing cards have been around for 2,000 years and are just as prevalent in today's society as ever before. They are timeless and a way connecting people of all generations. Rather than reliving the past however, Cartamundi is at the forefront of innovation in the card industry; pushing boundaries when it comes to quality, finishes and introducing services such as iCards for the connected generation.