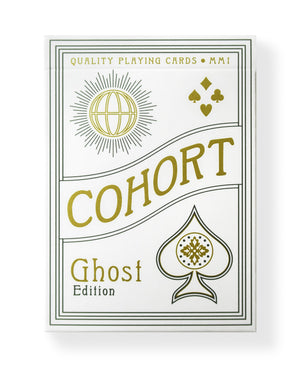 Inspired by vintage casino decks and designed with simplicity in mind, Cohort: Ghost Edition by Ellusionist is engineered to be unassuming when at the card table or in the hands of a master card mechanic. 
Cohort showcase classic pips and court cards and feature a nostalgic back design that appears completely standard on the surface... Delve deeper however and you'll discover a marking system hidden between the intricate lines of the card backs, invisible to the untrained eye. Each deck arrives with a double-backer and a duplicate Queen of Spades for your magic performances. 
Printed by Cartamundi in Belgium on Luxury Pressed E7 stock. 

Ellusionist was founded on January 1st, 2001 by Brad Christian with the goal of creating the best online training environment for people who want to learn high-impact, effective magic tricks.
Since then, Ellusionist growth has been unprecedented, boasting one of the largest magic forums on the internet with over 60,000 members.
Constantly pushing boundaries, in 2017 Ellusionist launched Magic Stream, an online subscription based streaming platform, giving its users the ability to view magic tutorials anywhere, on any device.
The power to perform magic beyond belief.