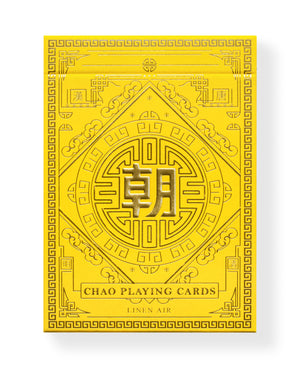 China's extraordinary history dates back more than 5,000 years and provides a rich collection of royal subjects which form a foundation for the Chao playing card series. 
Chao, the pronounced word for 'dynasty' in Chinese, is distinguished by the name and impact of an individual over a given period of time. Chao playing cards pay tribute to four of the greatest and most recognised dynasties in Chinese history (Han, Tang, Ming and Qing) and feature illustrations and design taken directly from Chinese culture.
In the days of the dynasty, yellow was a forbidden colour, reserved only for high-ranking officials and the Emperor's bodyguards - representing power, royalty and prosperity. Chao: Imperial Yellow embodies these values, arriving in an embossed and gold foil stamped tuck case. Inside, each suit has been designed around one of the four dynasties above. Court cards include intricate detailing, possessing different features and personalities whilst maintaining a traditional playing card theme - from the inclusion of weapons and artefacts to the direction of their heads and hand placements. Each deck also arrives with two custom Jokers which feature important historical Chinese figures, Guan Yu and Bao Zheng. 
Limited to 2,500 and printed by Make Playing Cards using their M32 Linen Air card stock with BETA finish.