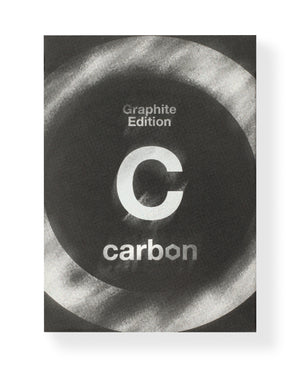 A representation of the element Carbon and two of its allotropes, Diamond and Graphite, this edition has been designed by Luke Wadey as part of his collaboration with Nick Nisco of Elemental Playing Cards. 
Compared to the Diamond Edition, Graphite has been crafted with cardistry in mind and features a one way back design centred around a large hexagon (inspired by the way carbon atoms bond to create graphite) which forms a focal point when card flourishing. Full bleed elements also ensure intense fans and spreads, with the ability to create four different fanning patterns! 
The use of faded areas as if they have been erased and smudged is used throughout the deck and starts with the tuck box, where a deep grey is used to replicate the colour of pencil lead. Whilst the cards make use of unconventional features, maintaining traditional pips and indices ensures the deck still tied in to the Diamond Edition and can be used for everything from cardistry to casual gameplay. 
Limited to 2,500, printed by The United States Playing Company on premium crushed Bee stock and traditionally cut.