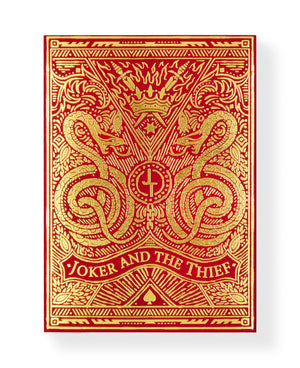 Joker and the Thief: Blood Red Edition
The original Joker and the Thief playing card design returns for a third and final instalment, now in a blood red colour-way and laced with lavish gold foil! 
Complete with metallic inks and charismatic court cards - the Blood Red Edition sees the original deck's mythology go full circle as we travel from darkness to the light, following a blood red trail that ties each character from the symbolic tale together.
The cards arrive in a tuck composed of luxurious red dyed paper, hot stamped with dazzling gold foil which is heavily embossed and capped with a perforated white and gold seal. 

Crafted from a durable premium casino grade stock and printed with Classic Finish by The United States Playing Card Company.